Mental Health & Well-being
Mental Health & Well-being
Use this page to source information that can support both adults and children. Scroll down for the information linked to adults.
Resources and links to support children
BeUNotts is a new service in Nottingham City and Nottinghamshire to support children and young people with their mental health. You can contact them directly or speak to Mrs James in school who can provide additional information.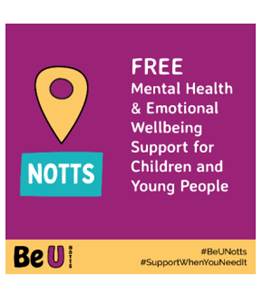 For information about the Mental Health Support Team including useful videos with self help tips click here.
If you have children who are worried about the current situation in Ukraine, click here for some information that may be helpful in supporting them.
Psychological First Aid: this is a new, free, online course for parents, carers or anyone supporting children. It provides advice and training on how to support children and young people who may be struggling with their mental health due to the pandemic. Please click on this link if you want to access the course or find more information about it.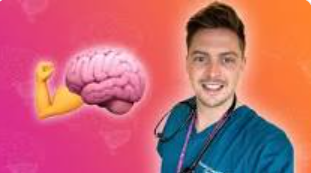 Dr Alex George is the UK's new Youth Mental Health Ambassador. Watch this clip for some advice from him about your mental health and wellbeing over half term.
BBC Headroom has advice for children on the Bitesize section.
For resources linked to Children's Mental Health Week click here and here
More advice about going back to school from the Mental Health Support Team
Childline

Anna Freud Centre for children and families - this is a London-based charity but there is a lot of useful information and resources on the site
Positively Empowered Kids - a Nottingham social enterprise focussing on early intervention and the prevention of poor mental health in the next generation.
Starline is a new helpline available to parents and carers supporting children with their learning at home. They can advise on home learning strategies, curriculum, SEN and can provide behaviour and wellbeing advice. It's free and open six days a week. The number is 0330 3139162.
My Hero is You (Storybook for children on Covid-19)
While we can't hug - a video story to help children understand social distancing
Coronavirus (A Book for Children)
British Psychological Society guidance on talking to children about the virus
Partnership for children wellbeing resources
Children's Commissioner - children's guide to coronavirus
Story about coronavirus from the ELSA team
The Book of Hopes: Words and Pictures to Comfort, Inspire and Entertain Children in Lockdown
Young Minds - a charity focused on improving the mental health of children and young people
5 Breathing Exercises for Kids for Calm and Focus
Talking about Mental Health - a short film aimed at children
free ELSA resources to support children to cope with Coronavirus
nova wellbeing newsletter for pupils
Resources and links to support adults
There is a wealth of useful resources and information available on BBC Headroom. Click here to see the site.
The Mental Health Foundation has lots of useful information.
MutualAid is a group that provide resources and connect people to local community groups.
For NHS information about support during the pandemic click here
Nottinghamshire Mental Health Helpline - available 7 days a week

Every Mind Matters - nhs site with information about mental health
Face Covid - In this brief animation, Dr Russ Harris, author of the international best-seller The Happiness Trap, illustrates how to use ACT (Acceptance and Commitment Therapy) to deal with the Corona crisis and the fear, anxiety and worry that goes with it.
Women's Aid - a charity offering support to women and children experiencing domestic abuse
Men's Advice Line - a confidential helpline for men experiencing domestic abuse
nova wellbeing newsletter for parents and carers
Mindfulness
Create patterns and drawings on weavesilk
Do nothing for 2 minutes - a relaxation activity
Childline breathing exercises, yoga videos and games, click here
Related Downloads
August 2022
| M | T | W | T | F | WE |
| --- | --- | --- | --- | --- | --- |
| 1 | 2 | 3 | 4 | 5 | 6 |
| 8 | 9 | 10 | 11 | 12 | 13 |
| 15 | 16 | 17 | 18 | 19 | 20 |
| 22 | 23 | 24 | 25 | 26 | 27 |
| 29 | 30 | 31 | | | |